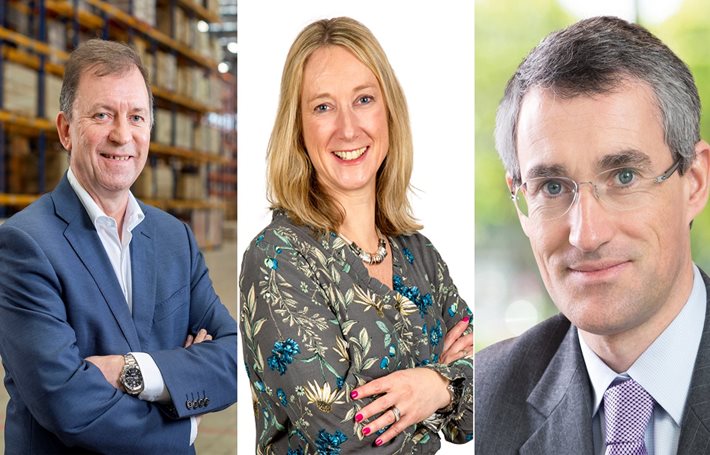 Logistics UK grows its board
Logistics UK has strengthened its board with the appointment of three new directors.
Louisa Hosegood, Simon Hobbs and Gavin Murdoch have joined the organisation's board to help guide the business as it continues to lead the logistics industry in its post-pandemic recovery.
All three new directors have extensive experience of the industry, gained in a variety of roles and transport modes. Hosegood, now strategy and transformation director for Bis Henderson Group, previously worked in senior roles with John Lewis Partnership, Marks & Spencer and Tesco PLC.
Logistcs UK said she is passionate about fit-for-future joined-up supply chains, and is currently central to developing innovative, customer-centric services across the Bis Henderson's consulting, warehousing space and recruitment businesses.
Hobbs is chief executive of Kinaxia Logistics, one of the UK's fastest-growing logistics businesses, which currently operates more than 850 vehicles and 2.7m sq ft of warehousing nationwide.
Prior to joining Kinaxia, he gained 35 years' experience with organisations including DHL Supply Chain, CEVA Logistics and Kuehne & Nagel.
Murdoch joined DHL Supply Chain in 1996 in Northern Ireland and has subsequently worked in many of the company's operations around the world.
Now managing director of Network Transport Solutions at DHL Supply Chain UKI, he leads a team of cross-sector experts with a focus on growth, efficiency and carbon reduction, as well as upskilling the next generation of employees.
"Our new directors join us at an exciting time in our organisation's development," said Logistics UK president Phil Roe. He added that "each brings a wealth of knowledge and business acumen which will be invaluable as we continue to drive Logistics UK forwards".
Logistics UK passed 20,000 members for the first time recently.
Logistics UK's new head of trade and devolution
Where now for UK air cargo? A year in review
The post Logistics UK grows its board appeared first on Air Cargo News.