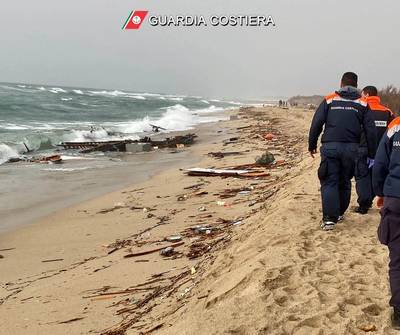 Italy Urges 'Stop' to Migrant Boats as Shipwreck Death Toll Hits 63
Rescuers recovered four more bodies on Monday, a day after a wooden sailboat carrying migrants to Europe smashed onto rocks in stormy weather off southern Italy, bringing the death toll to 63, including at least 14 children. Rescuers said most of the migrants came from Afghanistan as well as from Iran, Somalia, Syria and elsewhere. Pakistan's foreign ministry said 20 Pakistani citizens were on the boat, with four missing and 16 survivors of the nighttime shipwreck.
Many of the victims washed ashore close to where the vessel sank near Steccato di Cutro, a seaside resort on the eastern coast of Calabria, while some of the bodies were recovered from the sea.
"We met a survivor who fled Afghanistan with his sister to escape the Taliban. She did not survive," said Sergio Di Dato, a project coordinator with charity Doctors Without Borders (MSF).
MSF is offering psychological support to survivors, including a 12-year-old boy from Afghanistan who lost all nine family members who were traveling with him, including his parents and four siblings.
"People are in shock, very exhausted, some of them say they saw relatives fall into the water and disappear or die," Save the Children, another charity offering assistance, said on Twitter.
Dozens of coffins were laid out in a sports hall in the neighbouring town of Crotone ahead of an eventual funeral. Local people left flowers, candles and a teddy bear on metal railings outside to show their respect.
An imam led Muslim prayers for the victims, and a Catholic bishop also came to pray and offer condolences. Some survivors sat outside the sports hall, wrapped in thermal blankets and crying.
Local authorities said 81 people survived the disaster, but between 180 to 200 people were believed to have boarded the vessel when it left from Izmir in western Turkey, suggesting many more passengers may have perished or be missing.
The shipwreck has stoked a debate on migration in Europe and Italy, where the recently elected right-wing government's tough new laws for migrant rescue charities have drawn criticism from the United Nations and others.
"These tragedies are the result of the tragic collateral damages of Italian and European policies, protecting borders and reducing safe and regular passage to Europe," said Marco Bertotto, director of programs for MSF in Italy.
'Stop the departures'
Italian Prime Minister Giorgia Meloni said in an interview she wrote to European Union institutions calling for immediate action by the bloc to stop migrant boat trips so as to prevent more deaths.
"The more people depart, the more risk dying," she told RAI public television. "The only way to tackle this issue seriously, with humanity, is to stop the departures."
Her interior minister, Matteo Piantedosi, meanwhile attracted widespread criticism after he blamed migrants as well as traffickers, for embarking on dangerous sea journeys with their families.
"Desperation can never justify traveling in conditions that endanger the lives of their children," he said.
"Dear Minister Piantedosi, if a mother chooses to put her child, the most precious thing she has, on a boat, it is because she is fleeing from greater danger and desperation," Raffaella Paita, a senator from the centrist Italia Viva party, said.
"It would be wise to think before you speak. You have no humanity," she added.
The minister shot back at opponents, saying it was "shameful" to mount a polemic over his words, and said the government was also committed to opening up legal migration channels.
He mentioned the "humanitarian corridors", a initiative run by Christian groups which he said had airlifted to Italy more than 600 migrants since October, when Meloni's administration was installed.
In the same period of time, at least 41,000 migrants came to Italy via boat trips.
The vast majority of migrant boats departed from North Africa, but increasing numbers have left from Turkey over the past two years, including some 16,000 in 2022 — 15% of all arrivals.
The United Nations Missing Migrants Project has registered more than 20,000 deaths and disappearances in the central Mediterranean since 2014, including more than 220 this year, making it the most dangerous migrant route in the world.
The post Italy Urges 'Stop' to Migrant Boats as Shipwreck Death Toll Hits 63 appeared first on MarineLink.