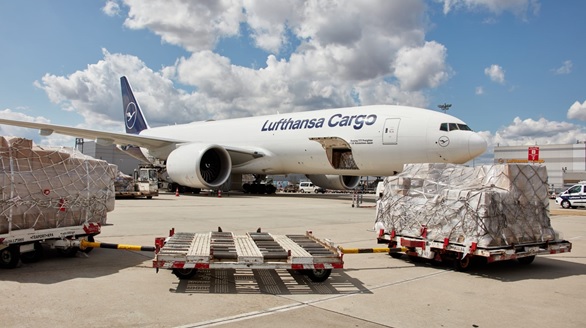 Lufthansa Cargo reports third year of record revenues
Lufthansa Cargo reported record revenues and operating profits last year despite volumes being flat on 2021 levels.
Lufthansa's logistics division, which includes Lufthansa Cargo, Jettainer, time:matters, HeyWorld and a 50% stake in AeroLogic, last year saw revenues increase by 22% year on year to €4.6bn while earnings before interest and tax was up 5% to €1.6bn.
Operating figures show that cargo traffic for 2022 was flat at 7.2bn revenue tonne km (RTK), capacity was up 17% to 11.8bn available RTK, load factor was down 9.9 percentage points to 61.1% and yields increased 21.1%.
The company said that the record revenues and ebit were fuelled by airfreight rate price increases. The ebit increase was partially offset by a 32% increase in expenses as materials, fuel and staff costs rose.
"Due to the coronavirus pandemic, market-wide freight capacity remained reduced on account of the loss of capacity in the bellies of passenger aircraft," the company said in its annual report.
"Demand for freight capacity remained high even when things began to get back to normal in the second half of the year.
"Operational stability was maintained despite the adverse conditions such as lockdowns in China and detours caused by the need to fly around Russian airspace."
The cargo business said that with the resumption of passenger flights, both capacity and route offerings expanded during the year and the belly segment now accounts for around half of Lufthansa Cargo's transport capacities.
"In the 2023 summer flight schedule alone, cargo will be regularly transported on more than 7,000 flights a week operated by Lufthansa, Austrian Airlines, Brussels Airlines, Eurowings Discover and SunExpress," the company said in a press release.
Dorothea von Boxberg, chairperson of the executive board and chief executive of Lufthansa Cargo, said: "In the past fiscal year, we achieved a record result for the third time in a row.
"We owe this to the high level of commitment of our employees and the trust of our customers and partners.
"In addition, we again had significantly more capacity in the market due to the growth in long-haul passenger traffic.
"We notice that our customers continue to serve their global supply chains. With more freighters and more bellies, we will continue to be a strong and reliable partner for our customers."
Looking ahead, she added: "We are looking ahead to the fiscal year of 2023 with confidence. The environment remains dynamic. But we are convinced that we are excellently positioned and can respond flexibly and quickly to changes in the market."
The cargo businesses also highlighted the investments it has made over the last 12 months.
For its fleet, the company ordered three B777Fs – the first of which has been delivered – and seven next-generation B777-8Fs. It also took delivery of two converted  A321Fs to cater for intra-continental e-commerce demand, with two more to come in the summer of 2023.
Lufthansa Cargo said the extra widebody capacity has allowed it to increase frequencies to high-demand intercontinental destinations such as in China and India and to open a new freighter station in Hanoi, Vietnam.
Elsewhere, the company has been investing in sustainable aviation fuel and a new film that helps reduce drag and therefore fuel consumption.
"In the area of digitalisation, Lufthansa Cargo succeeded in 2022 in expanding digital sales channels and making handling processes more efficient thanks to improved data quality and use," the company said. "This benefits partners and customers alike in the transport chain.
"With Mobile Digital Handling, digital solutions are increasingly replacing paper-based processes. In addition, 100% of all shipments were transported with an electronic air waybill (eAWB) for the first time last year."
The post Lufthansa Cargo reports third year of record revenues appeared first on Air Cargo News.