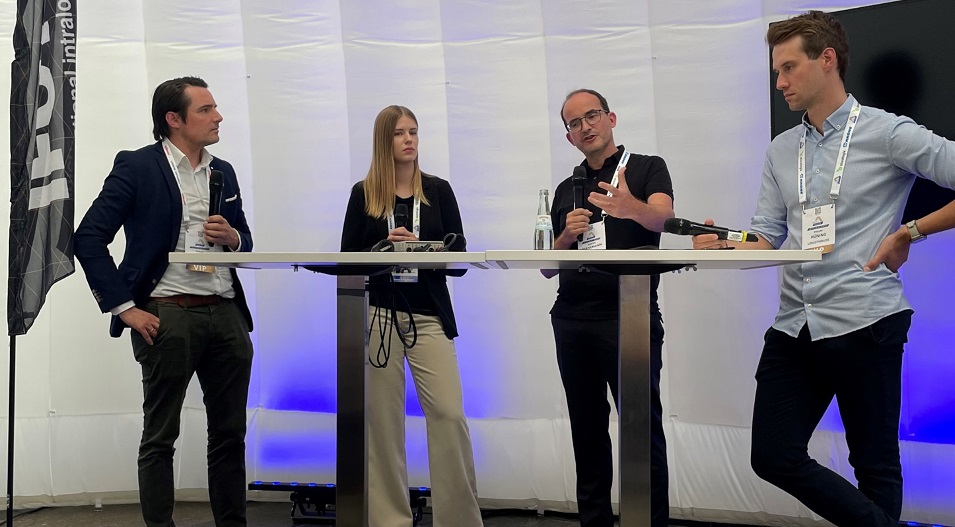 Hellmann goes Blue to digitize its operations
Hellmann Worldwide Logistics has successfully used tracking specialist BlueBox Systems to digitize its operations, delegates to a summit in Germany learned.
The forwarder, which describes itself as "one of the biggest medium-sized logistics companies" in the industry said in a presentation at the Logistics Summit in Dusseldorf on 18 October that the secret of success was "a combination of an established company and an innovative start-up".
BlueBox says that its systems enables air cargo to be tracked in real time through all stages of the journey, allowing senders to know where their shipments are and providing updated information about the expected time of delivery.
Hellmann chief digital officer and executive board member Stefan Borggreve told the panel discussion on how start-ups and established corporate firms could work together: "BlueBox Systems delivers fresh ideas, agility, new technologies and above all speed – for example in implementation – to this partnership."
He also paid tribute to the mentality of BlueBox Systems, explaining: "When working with start-ups, we benefit from the fact that they can experiment easily, due to their lean structures, and thus learn very quickly."
BlueBox Systems chief technical officer, Martin Bernemann, said:  "A big advantage for us is Hellmann's market overview and market access, as well as the different perspectives that automatically exist in corporate projects. In turn, Hellmann gets fresh know-how, state-of-the-art technology, and agility from us. So both sides benefit."
Hellmann offers its customers the 'white label' BlueBox Air service branded as "SmartAir!". With data from 130 airlines and 1,600 airports, users can track the position of the aircraft and the cargo in real time at any time. The BlueBox platform provides about 40 million status reports every day.
Hellmann key account manager smart solutions, Lena Haartje said: "When collaborating with start-ups, it's important for us to give them access to resources and mentoring as soon as possible, and without a lot of bureaucracy."
Bernemann concluded: "Another crucial point is that when working together with start-ups, you don't just treat them as suppliers, but meet them as equals…Both sides want transparency. The start-ups expect clear communication from the companies. And the companies expect clear communication from the start-ups, what they can really deliver. At BlueBox Systems, we place a high value on communicating proactively and delivering as promised."
Hellmann acquires Italian partner as it looks to Mediterranean expansion
Hellmann and Logmore make tracking air cargo shipments easier
Hellmann establishes three new logistics solutions
The post Hellmann goes Blue to digitize its operations appeared first on Air Cargo News.