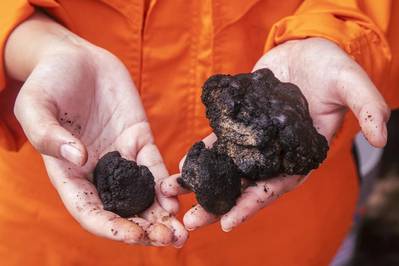 Norway's Loke Buys UK Deep-sea Mining Firm from Lockheed
Norway's Loke Marine Minerals has acquired deep-sea mining firm UK Seabed Resources (UKSR) from Lockheed Martin, the companies said on Thursday.UKSR holds a 100% interest in two deep sea mineral licences in the Clarion-Clipperton Zone (CCZ) in the Pacific Ocean, and a 19.9% interest in the Ocean Mineral Singapore, licences issued by the International Seabed Authority (ISA).
"We've got the approval from the UK government… Our ambition is to start extraction from 2030," Hans Olav Hide, Loke's chairman, told Reuters.
Companies that also hold exploration licences for swathes of the sea floor in the CCZ include Global Sea Mineral Resources (GSR) and The Metals Company.
"Following a detailed analysis of the business it was clear that there was a better owner for our UK Seabed Resources business," a Lockheed Martin spokesperson said.
Through this transaction, Loke becomes the largest holder of licences in the CCZ area spanning 4.5 million square kilometres between Hawaii and Mexico. It declined to disclose the value of the deal.
The area is peppered with potato-sized rocks rich in cobalt, copper, nickel, and manganese – key materials for technologies driving the energy transition, such as batteries for electric cars.
However, the plans of Loke and some other companies to extract minerals from the ocean floor have been criticized by environmentalists, who say the impact could be devastating to little-known species living there.
"Yes, it comes with some consequence to the environment, but we believe that it will be smaller than extracting minerals on land, if you, let's say, go into a rain forest," Hide said.
Loke also said on Thursday that Norwegian Kongsberg Gruppen, which provides technologies for offshore oil and gas production to airspace and defence, had taken a stake in the company, joining TechnipFMC and Wilhelmsen.
The ISA has yet to finalise long-debated regulations that will govern seabed mining in international waters.
Norway is also considering opening ocean areas on its extended continental shelf in the North Atlantic for seabed mineral exploration.
The post Norway's Loke Buys UK Deep-sea Mining Firm from Lockheed  appeared first on MarineLink.
(Reuters – Reporting by Nerijus Adomaitis; Additional reporting by Helen Reid; Editing by Mark Potter)