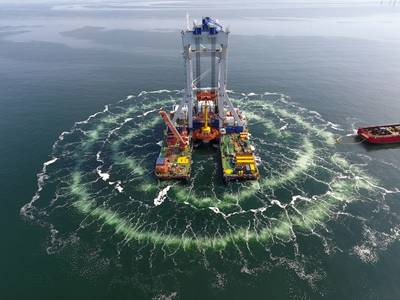 Noise Mitigation: Bubble Curtain to Be Deployed During Construction of U.S. Largest Offshore Wind Project
U.S. offshore wind farm developer Vineyard Wind will deploy and test a secondary bubble curtain noise mitigation system during foundation installation at the Vineyard Wind offshore wind farm, the first commercial-scale wind farm installation project in the U.S. For this the company is investing in ThayerMahan, a firm that specializes in seabed surveys, acoustic mitigation and monitoring, and other maritime-related services, with facilities in Connecticut and Massachusetts.
The $5 million in funding comes from Vineyard Wind's Industry Accelerator Fund, which is administered by the Massachusetts Clean Energy Center (MassCEC).
As part of the agreement, ThayerMahan will move its headquarters for its bubble curtain acoustic mitigation product line to New Bedford, sharing part of the Foss Marine Terminal.
ThayerMahan, partnered with Hydrotechnik-Luebeck (HTL), a company specializing in Big Bubble Curtain technology, has committed to hiring locally for a wide array of positions, from deckhands to data scientists.
The firm has already established a training/internship program with UMass Dartmouth, in addition to agreeing to assembly and manufacturing operations for future projects in New Bedford. Once this partnership is executed, ThayerMahan will be the first U.S. company to provide bubble curtain services to the US Offshore Wind industry.
"Our agreement with ThayerMahan ensures that for the first time, a US-based company will perform the service of providing a bubble curtain mitigation system for an offshore wind project," said Vineyard Wind CEO Klaus S. Moeller. "We believe this is the first step of getting US firms experience in this new industry and sets the stage for rapid expansion in the coming years, particularly in our hometown of New Bedford."
"The deployment of this bubble curtain by ThayerMahan marks another milestone in the construction of this nation-leading project and demonstrates offshore wind's potential to create local jobs and economic impact," said AVANGRID CEO Pedro Azagra. "We are proud to come to this agreement with a local maritime services firm that will help us deliver on the successful, environmentally responsible installation of this project and launch the offshore wind industry in the United States."
What is a "bubble curtain"?
A bubble curtain, which is comprised of large, perforated hoses and specialized air compressors, is designed to absorb and dampen sound during foundation installation.
The hoses are placed on the seafloor around the monopile before being filled by compress air. Once the hoses are inflated, the air escapes through the perforations and creates a barrier of bubbles that reduce noise.
These operations will be conducted from the Northstar Navigator, a vessel that will be operated out of the Port of New Bedford.
"We are proud to support Vineyard Wind in the construction of the United States' first large-scale offshore wind development," said ThayerMahan Chairman and CEO Michael Connor. We appreciate the support of Massachusetts Clean Energy Center in establishing a world-class noise mitigation capability in New Bedford that will serve construction efforts throughout the region. We continue to hire motivated workers who want to be a part of an effort that helps deliver a sustainable energy future."
"We're very happy to welcome ThayerMahan's world leading autonomous maritime solutions to New Bedford's growing ocean cluster and by the company's commitment to hiring local," said Jennifer Downing, Executive Director of the New Bedford Ocean Cluster (NBOC). "ThayerMahan's partnership with UMass Dartmouth is particularly exciting as it will help to prepare our local workforce for future job opportunities as the company continues to expand its operations in New Bedford. We are once again seeing an exciting first for U.S. offshore wind unfold in the Port of New Bedford, further solidifying Massachusetts and New Bedford as a leading hub for the industry."
Vineyard Wind recently submitted its first annual report to the state compiled by UMass Dartmouth and Springline Research Group that found Vineyard Wind more than doubled early estimates for the number of jobs created and dollars invested.
According to Vineyard Wind, a joint venture between Copenhagen Infrastructure Partners (CIP) and AVANGRID, its 800-megawatt offshore wind project located 15 miles off the coast of Martha's Vineyard, Vineyard Wind will generate electricity for more than 400,000 homes and businesses in the Commonwealth of Massachusetts, create 3,600 Full Time Equivalent (FTE) job years, save customers $1.4 billion over the first 20 years of operation, and is expected to reduce carbon emissions by more than 1.6 million metric tons per year, the equivalent of taking 325,000 cars off the road annually.
The post Noise Mitigation: Bubble Curtain to Be Deployed During Construction of U.S. Largest Offshore Wind Project appeared first on MarineLink.