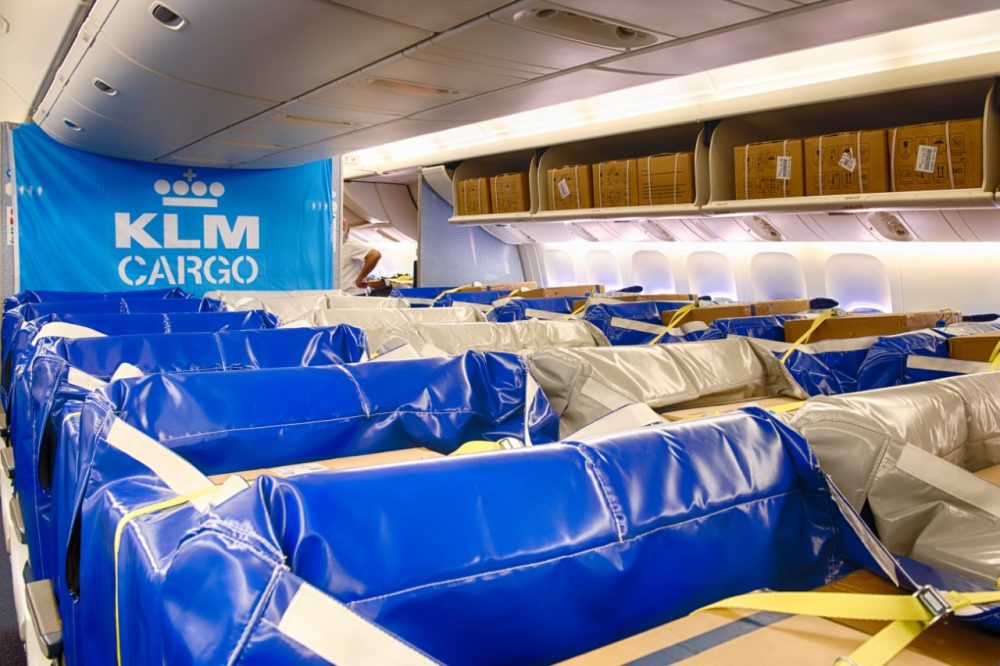 KLM Cargo introduces cargo seat bags
KLM Cargo has partnered with its long-time Cargo equipment supplier Trip & Co to design a user-friendly, easy-to-install quality product. 
Basing its design on KLM's considerable Cargo in Cabin experience, Trip & Co has produced the tailor-made Cargo Seat Bag (CSB). The product has been submitted to the Dutch Civil Aviation Authority for approval and authorisation.
The bags not only protect the interior, but also double loading capacity on the seats, reduce physical strain during handling and prevent plastic waste.
KLM received the first set of 172 Cargo Seat Bags (single-seat, double-seat and triple-seat versions) on 8 April and undertook its first operational flight using CSBs on 13 April, carrying about 950 boxes (10 tonnes) of medical relief goods and Covid-19 test kits from Shanghai to Amsterdam.
Ton Veltman, KLM Cargo in cabin project manager, commented: "It remains extremely inspiring for me to be part of the close-knit team working on Cargo in Cabin. We have been active for over a year now, with involvement throughout KLM and including our partner Trip & Co. By doubling CIC capacity on our 777s, we now have capacity similar to what we had on our 747s. I'm proud of the many KLM colleagues who have made this innovation happen and of the smart and exceptional product that we developed and delivered with them and Trip & Co. This is an example of creativity and perseverance that will be key in the years to come."
The post KLM Cargo introduces cargo seat bags appeared first on Global Cargo Insight.