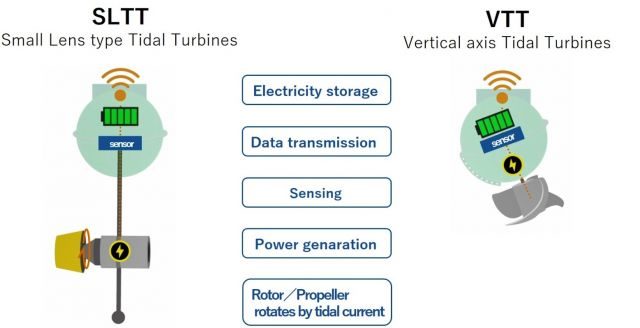 Energy harvesting smart buoy prototypes
Nagasaki University and Kyocera Corporation have announced their joint development of an Energy Harvesting Smart Buoy.
The new technology combines Nagasaki University's tidal current power generation technology with Kyocera's IoT technology to collect reliable ocean data.
Prototype buoys can collect a wide range of data on the marine environment using self-generated energy. A pilot program gathered information from 21 sensors, monitoring everything from water temperature and humidity to current direction. Future development may include sensors for temperature-related salinity variation, chlorophyll turbidity, and temperature related variations in dissolved oxygen concentrations, to name a few.
Marine pollution and climate change have become serious societal issues. To solve these issues and help create a more sustainable world, scientists need more reliable ways to monitor and visualize various sea conditions. However, maintaining a stable power supply is a big challenge for continuous data collection at sea. Therefore, Nagasaki University and Kyocera developed the "Energy Harvesting Smart Buoy," which generates its own electric power for continuous ocean data collection using a tidal-current power generation system in the buoy.
The new Smart Buoy combines tidal-current power generation technology from Nagasaki University and IoT-related technology from Kyocera. In addition, Kyocera has future plans to monitor fisheries and aquaculture, conduct ocean surveys, and more.
Each prototype is equipped with two different tidal-current power generation systems:
SLTT (Small Lens-type Tidal Turbines) – The buoy and power generation are separate, and a diffuser is installed around the turbine. In addition to protecting the turbine, the diffuser has the effect of increasing the flow of water for better power generation.
VTT (Vertical-axis Tidal Turbines) – The power generation element is directly connected to the buoy. Its AI-guided design incorporates a tilted axis to optimize turbine rotation amid heavy ocean swells and waves.
Source: www.maritimejournal.com
Image: www.maritimejournal.com