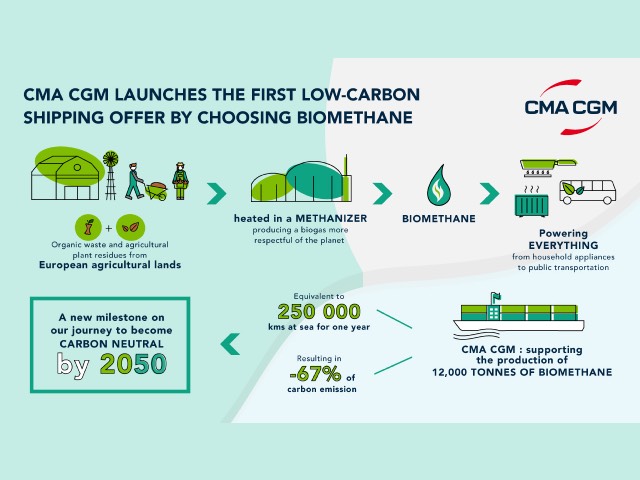 CMA CGM to use biomethane as a fuel
CMA CGM Group has launched a low-carbon shipping offer utilising biomethane as a fuel.
The company has supported the production of 12,000 tonnes of biomethane – equivalent to a year's fuel consumption by two 1,400 twenty-foot-equivalent (TEU) ships. The green gas is produced in part by the methanation of European-sourced organic and plant waste
CMA CGM intends to "push ahead" with the development of this biogas by investing in biomethane production facilities and studying the viability of liquefaction processes so that biomethane can be rolled out as a shipping fuel.
According to the company, 12,000 tonnes of guaranteed-of-origin biomethane is enough to fuel two 1,400-TEU LNG-powered ships operating on the Northern European Balt3 line between St Petersburg and Rotterdam for a full year.
Guarantee-of-Origin biomethane, coupled with CMA CGM's dual-fuel gas-power technology, can reduce well-to-wake (entire value chain) greenhouse gas emissions by at least 67%; on a tank-to-wake basis (at ship level), the reduction reaches 88%.
Rodolphe Saadé, chairman and CEO of CMA CGM, said: "We have crossed a new step with the launch of the first low-carbon shipping offer based on biomethane.
"We know that there is still a long way to go to meet the commitments of the Paris Agreement. Achieving these goals does not rely on a single solution, but on a set of initiatives and new technologies complementary to each other."
The post CMA CGM to use biomethane as a fuel appeared first on Global Cargo Insight.