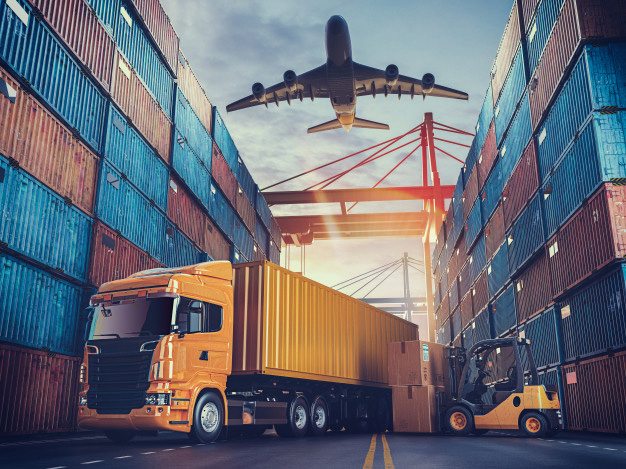 What Type of Cargo Transportation is the Most Appropriate?
While carriers anxiously awaited the approaching Brexit results, in the final we came across an entirely new and unexpected outcome, the COVID-19 virus, which significantly hurt the freight business worldwide.
Today, in this advanced world, we cannot imagine our life without different types of global cargo transportation that ensure us with the food, clothes and everyday things we choose for ourselves. It is related also to the export and import of the cargo type that warms the economy of countries.
Toys, TV sets, clothes, computers, meat, even face masks in this time – things that are better transported in containers. If goods are loaded efficiently, they may be transported in bulks. In a twenty feet long container it is possible to load 300 go-carts or one million pencils.
Crude oil, petrol, black fuel oil, vegetable oil, wine and even disinfectants – these liquid products are often transported in large tankers or by pipelines to the next destination. Many of these products reach the next destination as liquid bulk cargo. People at Brussels airport heat their buildings using black fuel oil or use kerosene from the Antwerp port for planes.
Bulk cargo is related also to grain, coal, iron ore, cement, sugar, salt and sand. These goods are not packed separately, but they are transported in bulk in the load compartment of a ship, a wagon or a truck. For example, lost of yeast is brought to Antwerp to be used for making whisky.
Paper, wood, cocoa bags, steel rolls – these are products that might be transported in a container on pallets, in the boxes or on the racks.
Thus, when planning shipment process, the important consideration is a type of transport. When identifying the type of transport, in addition to costs it is necessary to evaluate also the urgency of shipment, the value of shipped goods, as well as the size and weight of goods. There are different online tools for more optimal calculation of the type of cargo transportation, like there are different online calculators.
Of course, in many places, closed borders make transportation more difficult, or directed by different routes, sometimes even longer ones, which makes the total cost of export more expensive.
Yet Maritime Trade – 90% of the World Trade Amount 
One of the largest cargo operations in the world comprises the use of cargo ships. These cargo ships every day carry millions of tons of cargo, crossing oceans and seas in order to reach the destination. It is also one the most cost-effective transportation methods in case of bulk goods and deliveries in different regions and countries. Yet the volume of maritime trade constitutes around 90% of world trade volume. The transportation of cargos by sea is cheaper shipment of goods; however, certain disadvantage is a longer period of transit.
Cargo transportation by sea is also the best type of transportation in case of large size and heavy cargos, for example, minerals, metals, ore, steel windings etc., which could not possible to transport by air transport. Besides, companies emphasize the impact of shipping on environment. The air transport emits more pollutant gases in comparison to sea transport, which is considered to be "a greener transport" with more carrying capacity.
Our Holding, same as BIMCO (BIMCO is the largest of the international shipping associations representing shipowners), conducts regular market and risk analysis based on the most recent data available. We regularly analyse the latest information related to shipping companies, for example, on the shipping market, contract issues, maritime safety, etc.
Air Freight – the Fastest and the Most Expensive Type of Cargo Transportation 
Air fright is the fastest cargo transportation service. Air transport can deliver goods faster than ships and trains, performing non-stop flights for thousands of miles. Although this might be one of the most expensive possibilities, it enables to save a lot of time and to deliver everything in time. However, the cause of worry may be the limit of the weight of some objects, because the planes carrying cargos may transport only certain amount of materials.
The main air freight advantages are speed, less handling of cargo, less documentation, increased safety level of cargo.
Railway – "for those caring about Nature"
Transportation of cargo by railway is one of the most efficient overland transport types that enables to transport cargos at a long distance and using widespread railway networks. Most of the countries have their own railway network. The trains use less fuel per mile than road transport and a train with more than 100 wagons needs only one engine-driver. In one train it is possible to carry more than in 400 trucks. However, you should take into account the additional cargo transportation costs or handling the cargo at the destination.
It is conventional that railway has considerable safety level. If planned efficiently, the railway is relatively fast type of transport, which, for example, will take to the distant regions like China in only 20 days. Besides, transportation of cargo by railway has also some advantages – all containers are delivered to the same place simultaneously and the transportation is environment-friendly, because a train emits considerably less CO2 than a plane.
Delivery by Road – Only at a Short Distance in Provinces and Cities
Transportation of cargo by road usually is the destination of many deliveries. Although the consumption of time sometimes is considerable, it is the most widespread type of cargo transportation, particularly in provinces and cities.
Cargo transportation by road provides several advantages in comparison to other types of transport, for example, cost-efficiency, fast delivery at a short distance, flexible service, tracking down of cargo and the transport carrying the cargo, complete door-to-door service, and it is one of the most economic types of transportation. However, the transportation by road might be limited by size and weight of vehicle, this type of transportation is also influenced by weather, road quality and traffic, as well as borders closed due to various situations.
Optimal Efficiency with Multimodal solutions
One more possibility is the multimodal solutions – the use of several types of transport, for example, the combination of railway, road transport and sea transport for the transportation of cargo. It enables the client to manage the shipment in a cost effective way from the beginning to the end, ensuring optimal efficiency in every stage of the way.
Transportation of goods has many opportunities, and your transport needs might have more than one solution. Every type of transport has its advantages and disadvantages. When planning shipment and choosing the best type of transport, it is important to identify priorities for your needs, to understand the shipment and to compare costs. Of course, all this applies to situations where there are no global transportation restrictions when it comes to the normal-time cargo transportation market.