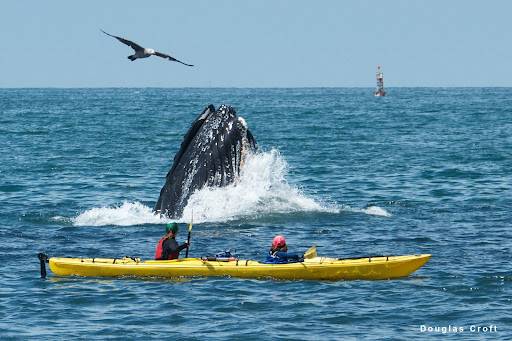 US Marine Economy Worth $432 Billion in 2021
America's marine economy contributed $432 billion in economic impact in 2021, making up nearly 2% of the nation's gross domestic product (GDP).That is according to the most recent statistics from the annual Marine Economy Satellite Account released
by two Department of Commerce agencies —NOAA and the Bureau of Economic Analysis (BEA). The marine economy statistics include activities in the US ocean, coasts and major water bodies such as the Great Lakes, Puget Sound and Chesapeake Bay.
From 2020 to 2021, the marine economy bounced back strongly from declines associated with the COVID-19 pandemic, with a 7.4% growth in GDP and a 10.5% growth in sales. The growth in the marine economy outpaced U.S. economic growth, which had a 5.9% growth in GDP and 6.2% growth in sales.
"The Biden-Harris Administration and Department of Commerce are committed to investing in America, and that includes enhancing our marine economy," said United States Secretary of Commerce Gina Raimondo. "Supporting a strong and sustainable marine economy is an essential part of building a climate-ready nation and helps local communities, economies and ecosystems to thrive."
For the statistics, experts from NOAA and BEA described 10 sectors representing businesses dependent on the nation's ocean, coasts and Great Lakes between the years 2014 and 2021. Businesses included in the report generated a total of $730 billion in sales and supported 2.3 million jobs in 2021.
The 10 sectors ranked by their 2021 sales (adjusted for inflation) are:
• Tourism and recreation ($232 billion, with a 27.3% growth from 2020).
• National defense and public administration ($190 billion, with a 1.3% growth from 2020).
• Offshore minerals ($97 billion, with a 2.5% decline from 2020).
• Transportation and warehousing ($57 billion, with a 16.8% growth from 2020).
• Living resources, including fisheries and aquaculture ($31 billion, with a 13.5% growth from 2020).
• Ship and boat building ($20 billion, with a 15.2% growth from 2020).
• Coastal utilities ($13 billion, with a 9.5% decline from 2020).
• Research and education ($10 billion, with an 8.2% decline from 2020).
• Professional and technical services ($7 billion, with a 4.0% growth from 2020).
• Marine construction ($6 billion, with a 14.9% decline from 2020).
"These statistics show the marine economy's resilience, with higher growth than the overall U.S. economy," said Monica Grasso, Ph.D., NOAA Chief Economist. "By investing in sustainable practices and working collaboratively with stakeholders, we can continue to build a thriving and resilient marine economy that supports our communities, protects the environment and drives our country's economy forward."
The post US Marine Economy Worth $432 Billion in 2021 appeared first on MarineLink.