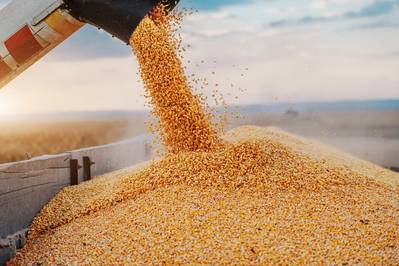 Ukraine '23/24 Grain Crop Likely Down 35-40 Million Tons
Ukraine's grain harvest is likely to fall to 35 to 40 million tonnes in 2023, including 12-15 million tonnes of wheat and 15-17 million tonnes of corn, a senior analyst and producer said on Monday.
Alex Lissitsa, CEO of the IMC agriculture company and the president of the Association "Ukrainian Agribusiness Club", told a grain conference that Ukraine would be able to export around 15 million tonnes of grain in the 2023/24 season.
The export could include up to 7 million tonnes of wheat and up to 10 million tonnes of corn.
Lissitsa also said that low wheat output could lead to a certain shortage of food grain for local consumption, which could potentially lead to restrictions on food wheat exports from Ukraine, adding: "There is such a danger."
He said the expected discussion of an export ban would start in May, with officials likely to be taken by surprise at the low amount sown.
Lissitsa said the Russian invasion in late February last year was the main reason for the fall. Swathes of land in the east, south and north of the country have been occupied or damaged by hostilities.
Russian attacks on Ukrainian energy facilities have led to widespread power shortages and blackouts for millions of people across the country.
Denys Marchuk, deputy chair of the Ukrainian Agrarian Council, told Ukrainian television earlier on Monday that the area sown to corn in Ukraine could fall by 30% to 35% in 2023 because of a shortage of money for farmers and electricity blackouts.
He said a significant acreage of corn from the 2022 harvest was still in fields and could not be harvested and low domestic corn price cannot allow farmers get back the invested funds.
Ukraine is a global major wheat and corn grower but it has said that its 2022 grain harvest could fall to around 51 million tonnes from a record 86 million tonnes harvested in 2021.
(Reporting by Pavel Polityuk, Editing by Timothy Heritage)