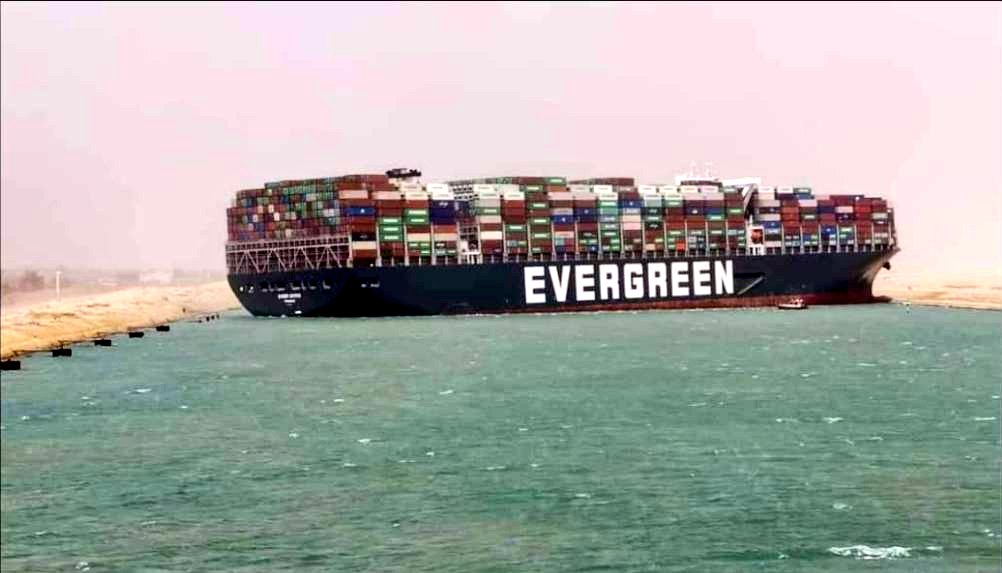 Suez Canal blocked by Evergreen container ship
The Ultra Large Container Ship (ULCS) #EVERGIVEN showing her bow firmly aground on the east Bank of the #Suezcanal and blocking about 10% of the world's trade. pic.twitter.com/obDpU8w3ed

— Sal Mercogliano ?⚓??? (@mercoglianos) March 24, 2021
Since Tuesday, the passage between Asia and Europe has been blocked by the Ever Given, a container ship adrift. Operations are still underway to dislodge it.
A gust of wind and a whole section of the world's maritime trade is at a standstill. Since Tuesday, at around 6am local time, the traditional passage of liners in the Suez Canal has come to an end. In the middle of this passage of more than 190 kilometres which cuts Egypt in two, constantly enlarged since its opening in 1869, a huge container ship blocks the passage.
According to the Taiwanese company Evergreen Marine Corp. contacted by AFP, a gust of wind accidentally caused the Ever Given, a 220,000-ton, 400-metre-long ship flying the Panamanian flag, to veer off course. The giant of the seas was trying to reach Rotterdam, in the Netherlands, from Asia, according to the Vessel Finder website. The vessel alone took up the entire width of the canal, and despite several hours of operations, it was impossible to dislodge it.
The Suez Canal has undergone continuous expansion since it was first opened between 1859 and 1869, with the most recent extension in 2015. In 2020, more than 10% of the world's maritime trade passed through it. Every year, 19,000 ships pass through, about 50 a day. The equivalent of $100 million (€85 million) worth of oil passes through the port every day, and despite the incident, oil prices have remained fairly stable so far.
While waiting for the tugs to manage to move Ever Given, and while the operation could take several days, the Egyptian authorities explained that they had reopened the historic passage, which was used in the past, in both directions. If the canal were to remain closed, ships would be forced to bypass Africa to reach Europe, which would double the journey time, adding another ten days to the journey.
The post Suez Canal blocked by mega-ship appeared first on Global Cargo Insight.
Suez Canal blocked by stranded Evergreen Containership. pic.twitter.com/wlJcX5waFf

— Martin Lukale (@LukaleMartin) March 24, 2021
The Suez Canal, one of the most important shipping lanes in the world, is reportedly blocked because someone accidentally got stuck with their giant container ship. The photo is unreal. pic.twitter.com/I2ACkBqPi2

— Marcel Dirsus (@marceldirsus) March 23, 2021