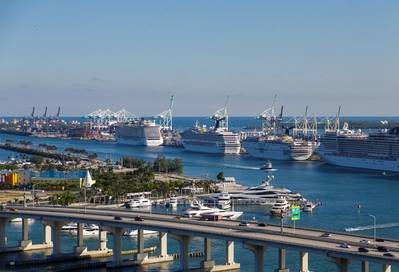 PortMiami to Get World's Largest Shore Power System
The world's top passenger port is installing a network shore power systems for cruise ships that, once completed, will be the largest of its kind globally.PowerCon said it has been tapped as a subcontractor to deliver five systems that will supply shore power for cruise ships at PortMiami's V (Virgin), F (Carnival), A (Royal Caribbean), B (Norwegian Cruise Line) and MSC Cruise Line terminals.
The Denmark-based engineering and manufacturing company said it has established a local subsidiary, PowerCon USA Inc., to support the project.
Shore power systems provide shoreside electrical power to ships at berth, enabling main and auxiliary engines to be shut down, reducing fuel consumption, emissions and engine noise while in port.
In February 2021, Miami-Dade County launched an initiative to bring shore power to PortMiami in collaboration with Florida Power and Light Company (FPL) and major cruise line partners.
The Florida seaport is expected to begin offering shore power for cruise ships later this year.
The post PortMiami to Get World's Largest Shore Power System appeared first on Marine Link.