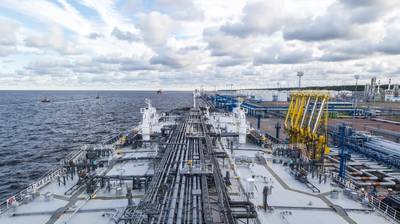 Kazakhstan Could Redirect Oil Exports via Russia's Baltic Ports if Black Sea Situation Worsens
Aug 18 (Reuters) – Kazakhstan could redirect oil exports to Russia's Baltic Sea port of Ust-Luga instead of Novorossiysk, if the situation on the Black Sea deteriorates, the head of Kaztransoil's transport department said on Friday. Kaztransoil's Abay Beisembaev said during an online briefing: "If the situation in the Black Sea worsens, the volumes that we transport in the direction of the port of Sheskharis (in Novorossiysk) will be transferred to the port of Ust-Luga."
Novorossiysk, Russia's largest Black Sea port, handles the bulk of Kazakhstan's oil exports via the Caspian Pipeline Consortium.
Earlier in August, navigation in the port's waters was briefly banned after a naval drone strike and Ukraine has threatened further such attacks if Russian air strikes on Ukrainian ports continue. UPDATE 9-Ukrainian drone disables Russian warship near Russia's Novorossiysk port Ukraine will mirror Russian attacks in Black Sea – Zelenskiy
(Reuters – Reporting by Felix Light; editing by Philippa Fletcher)
The post Kazakhstan Could Redirect Oil Exports via Russia's Baltic Ports if Black Sea Situation Worsens appeared first on MarineLink.