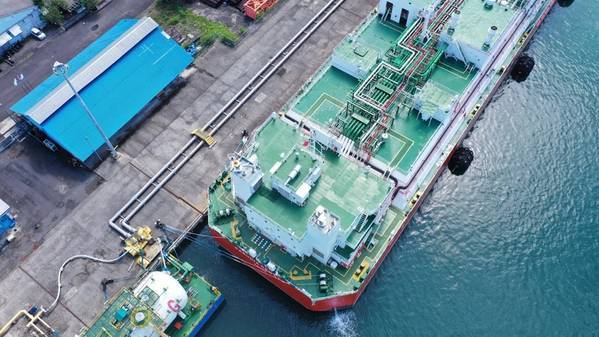 Europe in need for new floating gas terminals
Russia's invasion of Ukraine has struck the relations between the European countries and Russia, including in the field of gas supplies. As the winter approaches, a number of countries are trying to find a quick solution, and one of the best solutions is just the floating terminals for liquefied natural gas (LNG) supplies.
Majority of the LNG cargoes could be delivered from the Gulf of Mexico region on the seashore of the United States. Building a floating LNG terminal is faster and cheaper than development of terminal on the ground, however, its operation is more expensive, as it is pointed out by the experts. Building a liquefied natural gas tanker would cost approximately 500 million US dollars. Germany has ordered five LNG tankers and assigned approximately three billion euro for this purpose. Raising serious concerns to the environmentalists, a law on accelerated establishment of floating terminal has been passed postponing the environmental impact assessment. Government and representatives of the energy sector in Germany defend the decision on accelerated establishment of LNG terminals, since interruption of Russian gas supplies require urgent solution.
Oil spill used as a pretext by the Russian gas company "Gazprom" in its effort not to resume operation of the gas pipeline "Nord Stream" after the technical maintenance, is a common technical problem, which usually does not affect turbine operation and may be eliminated on the spot, announced the company "Siemens Energy", adding that Russia has a sufficient number of additional turbines to operate "Nord Stream". "Gazprom" has announced that, during the technical maintenance of the only operable gas pumping unit of the main compressor station, technical problems have been allegedly detected, and the gas pipeline will not be operated until the moment of elimination of these problems.
Poland has signed a long-term deal with the US for liquefied gas supplies even after 2030, which could cause some challenged to achieve the European Union's objective to reduce the emission of greenhouse gases by at least 55% by 2030. The UN Intergovernmental Commission for Climate Change has warned that further use of the current fossil fuel infrastructure could cause increase in global warming above 1.5 degrees Celsius.
According to "Rystad Energy" data, Italy, Greece, France, the Netherlands, Croatia, Estonia, Finland, Latvia, Slovenia, and the United Kingdom are planning to build at least one or several LNG terminals.
The US is currently in the process of building three new terminals for the LNG exports to Europe, and building of additional 11 terminals is planned. Due to continuing high demand for liquefied gas, the US LNG exports could increase by ten million tons next year.
Author: Roland Peterson, logistics expert