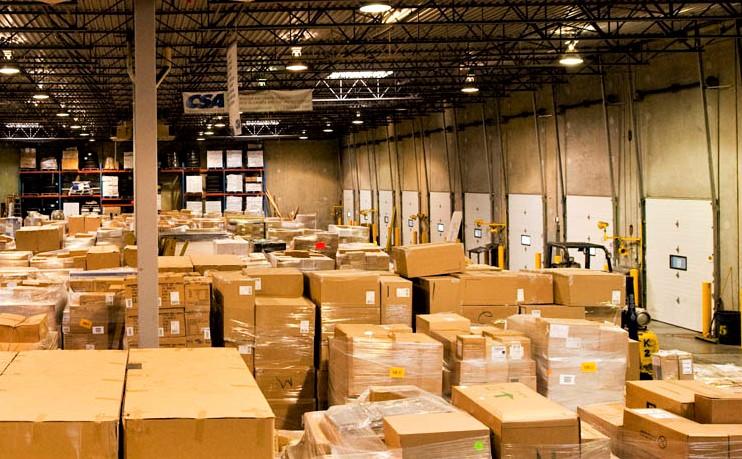 Cheapest Way to Ship Large Heavy Boxes
Cheapest Way to Ship Large Heavy Boxes | FlagShip Canada
When you ship large, heavy boxes and/or items for your business, it can be very challenging and expensive. The process of shipping for some businesses can be stressful and sometimes confusing, and sometimes you may not know what the couriers even consider a heavy or large shipment.
What exactly is considered a large or heavy box when shipping?
There's no universally recognized description of what is regarded as a "large package or heavy package".  Every carrier defines this term differently, as there are set weight and dimension limits for individual packages within a shipment.
It is important to know the maximum shipping size of your shipments to avoid undue charges for oversized packages. Read our blog on package weight and dimension limits for individual packages. And note that exceeding package weight and dimension limits set by the courier will result in additional charges that are typically quite expensive.
What are the shipping options for large, heavy shipments?
With shipping heavy items, at FlagShip, we always have options! You can ship with us in one of two ways:
Courier service: your business can save up to 70% on shipping costs! When shipping heavy items with a courier be sure to know the weight and size restrictions. UPS and FedEx, for instance, have set a maximum weight of 150 lbs and if you or your business are looking to ship heavier items then this would be a limitation for you.  For items that exceed the courier limits, we always have our freight service.
Freight services: when your shipment is too large to travel via courier, FlagShip's Freight LTL services can arrange for less-than-truckload (LTL) and full-truckload (FTL) skid shipments.  No shipment is too big or too small, and we cover all of Canada and the USA.
7 factors to consider when looking for the most cost-effective way to ship large heavy boxes.
1. Shipping guidelines for your chosen courier:
Before preparing to ship large heavy boxes, be sure to check with your chosen courier if they have any specific guidelines you need to follow.  Courier guidelines may be general, for instance, Purolator has set guidelines for shipping industrial equipment.
2. Dimensions and weight of your items:
When looking for the most cost-effective method to ship large heavy boxes, it is critical that customers understand how the weight density of their packages affects transportation prices. Hence the need to know the actual weight, dimensional weight and  billable weight. Actual weight is exactly what the product weighs, including packaging. Dimensional weight is based on dimensions instead of the actual weight and you are billed on whichever one is higher which then becomes the billable weight. Learn how to calculate dimensional weight for our partnered couriers – click here.
3. Proper packaging and materials:
When shipping large heavy items, it is essential that you ensure that they are securely packed in packages that are of appropriate size. Larger, heavier items are typically more expensive, so you really cannot afford to damage them during transportation. We recommend the following:
Use new boxes,
Seal boxes with heavy duty tape on all opening sides,
Pad or cushion your internal package material to protect it.
If your items are fragile, watch our video on how to package fragile shipments.
 For a freight / skidded shipment: If you want to palletize your big box for freight, it is important that the skid/pallet be the same size or bigger than the freight that is on it. For Instance, if a customer puts a box that is 50 x 30 x 20 on a skid that is 48 x 48, meaning that there is a 2-inch overlay that item is prone to being damaged during shipping. The skid should never be smaller than the freight it is carrying.
4. Where the shipment will be leaving from and its destination:
To ship large heavy boxes, as with any item being shipped, the distance between pickup and drop off as well as the weight of the item will determine how expensive delivery cost will be. You can always get a free quote on our shipping system, login now to quote.
5. Insurance:
If you are shipping a high-value or fragile but heavy item, it is important that you insure your shipment. Although this is at your own discretion, we recommend it and with FlagShip, you will enjoy our lowest insurance rates, and an easy hassle-free claims process, if anything happens to your shipment. Learn more about our insurance here.
6. Export taxes or duty fees:
Depending on what you are shipping and where it is headed you may have to pay taxes or duty on your shipment. Every country has its own rules and ways of calculating duty fees based on the type of item you are shipping, cost of the item(s) and more. We recommend you consult your customs broker.
7. Special handling fees:
It is important to note that if you are going to ship large heavy items as well as fragile items, you will be required to pay a "special handling fee" to ensure that your item is handled with care. And with FlagShip you can apply this option to your item with a click of a button when processing your shipment. Ready to try!? Sign up now!
With FlagShip, not only do you save time and money, but you also benefit from the best customer support team in the industry. There is only one phone number to call, one consolidated invoice, live customer support (even after hours).
So, remember, no shipment is too big or too small for the FlagShip team to handle and we cover all of Canada and anywhere in the world. Whether you need tips on how to make your freight shipping a success or how to wrap your pallet for freight shipping, or need help on a shipping quote – our team of specialists are always here to help.